Image Source: Getty / Jamie McCarthy
Chrishell Stause opens up about her plans to start a family after being quizzed about her romance with partner G Flip. On Sept. 18, the Selling Sunset star posted a photo of the couple holding hands to her Instagram story, to which one user commented, saying, "You didn't want to have kids?" An angry Stause then posted a screenshot of the message and clapped back with a stern response to those who criticized their relationship.
"I understand that being part of Selling Sunset entitles people in a way to ask questions and ask my life. But I'm fed up with this question."
"Please stop asking me that," she wrote on her Instagram story. "…I plan to adopt. I understand that participating in 'Selling Sunset' entitles people in a way to questions and my life. But I'm fed up with this question. Thank you for the love and support for others – I have fallen in love with one person. It's not that scandalous. Love is a beautiful thing," she concluded with a heart emoji.
Stause also posted a screenshot of another comment she received in response to her backlash, which read, "I don't think it was hate. Like I'm living my best life leave me alone lol." Stause replied, "I wanted to start a family with someone who wanted one too. And if someone doesn't know if they ever want a kid and aren't ready, being adopted, those are two things that getting dressed doesn't do for me."
She added that she has "nothing but love for my last relationship" in reference to her ex Jason Oppenheim. Oppenheim confirmed the former couple's split in December 2021, just five months after they went public with their relationship. In an Instagram statement, he noted that their split was partly due to "differing desires when it comes to having a family." Stause has also been transparent about the reason for their split, writing about it, "Men have a luxury of time that women don't have."
Stause later announced her romance with G Flip — who identifies as nonbinary — during the season five reunion of "Selling Sunset," which aired May 6, clearing up confusion over their sexuality. "Actually, nothing has changed for me," she said. "I'm still very attracted to very masculine energy and a good person… I hear people talk about these things and they're like, 'I knew it from a young age.' That's not me. I'm just, I'm very open to good energy. I don't know what my future holds. But it's a complicated subject to talk about. Even now I'm nervous.
G Flip previously said that they "will definitely see kids in my future" on an episode of People's Every Day podcast. "Right now, me and Chrishell know where we are in the stages of our lives," they added. "And we are very transparent about that."
See what else Stause had to say to her critics.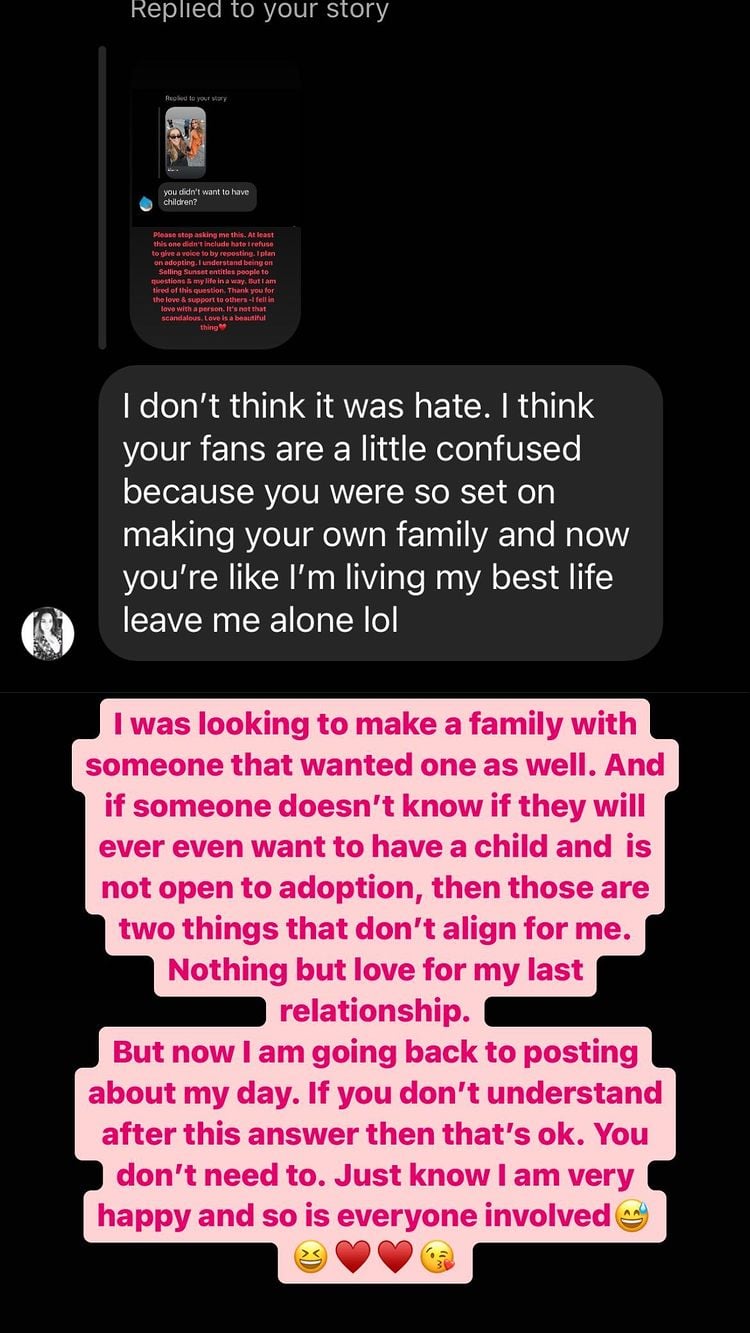 Image source: Instagram user chrishell.stause