Image Source: Getty / Marla Aufmuth
From a best-selling novel to the big screen, "On the Come Up" tells a vibrant hip-hop story that feels all too real — mostly because it's grounded in reality. Directed by Sanaa Lathan and based on the Angie Thomas bestseller of the same name, the film premiered on September 23. Newcomer Jamila C. Gray stars in the film, Bri, a high school student and battle rapper who dreams of taking the music world by storm. Joining her in the film are Lathan, Method Man, Lil Yachty, Mike Epps, Da'Vine Joy Randolph, GaTa, Miles Gutierrez-Riley, Titus Makin Jr. and Michael Anthony Cooper Jr.
"I also hope that by doing this they see the real Bris out there doing their thing and give them a little bit more honor and respect."
Dubbed a "love letter to hip-hop," the film follows Thomas' previous book-to-film offering, The Hate U Give, and centers on Bri's come-up story from poverty to little A taste of fame, all in an effort to give her family a better life. Although On the Come Up was written as a fictional story, Thomas tells POPSUGAR that many elements of it are extensions of her younger self, but she never imagined the novel would be made into a film.
"I was hoping it would be," she shares. "The funny thing is that I worked on this book 'On the Come Up' while I was on the set of 'The Hate U Give.' In fact, Amandla Stenberg was one of the first people to read parts of On the Come Up. We were in the production tent and I had her read it on my phone. So I was working on it at the time, and I was very motivated to finish it because I was hoping to see it come to life too… But you know, you never know how things will go sometimes everything has to come together at the right time and luckily for me it all came together at the right time with the right people. "
Thomas shares that it "means a lot" to see that people are still invested in hip-hop stories, especially those told from the perspective of young black girls. "Women, especially black women, have been so overlooked and sometimes so disregarded in hip-hop, and that's built on our backs," she notes. "We are such an important part of the culture and deserve our respect. Knowing that people are watching this film and seeing this young woman finding her power and her voice through hip-hop, and that she is. It's an amazing feeling to walk away with a deeper appreciation for the art form itself. But I also hope it makes them see the real Bris out here doing their thing and give them a little bit more tribute and respect."
"On the Come Up" was written and inspired by Thomas. Read on to learn more and find out what prompted the author to turn bits and pieces of her real life into an insightful coming-of-age story.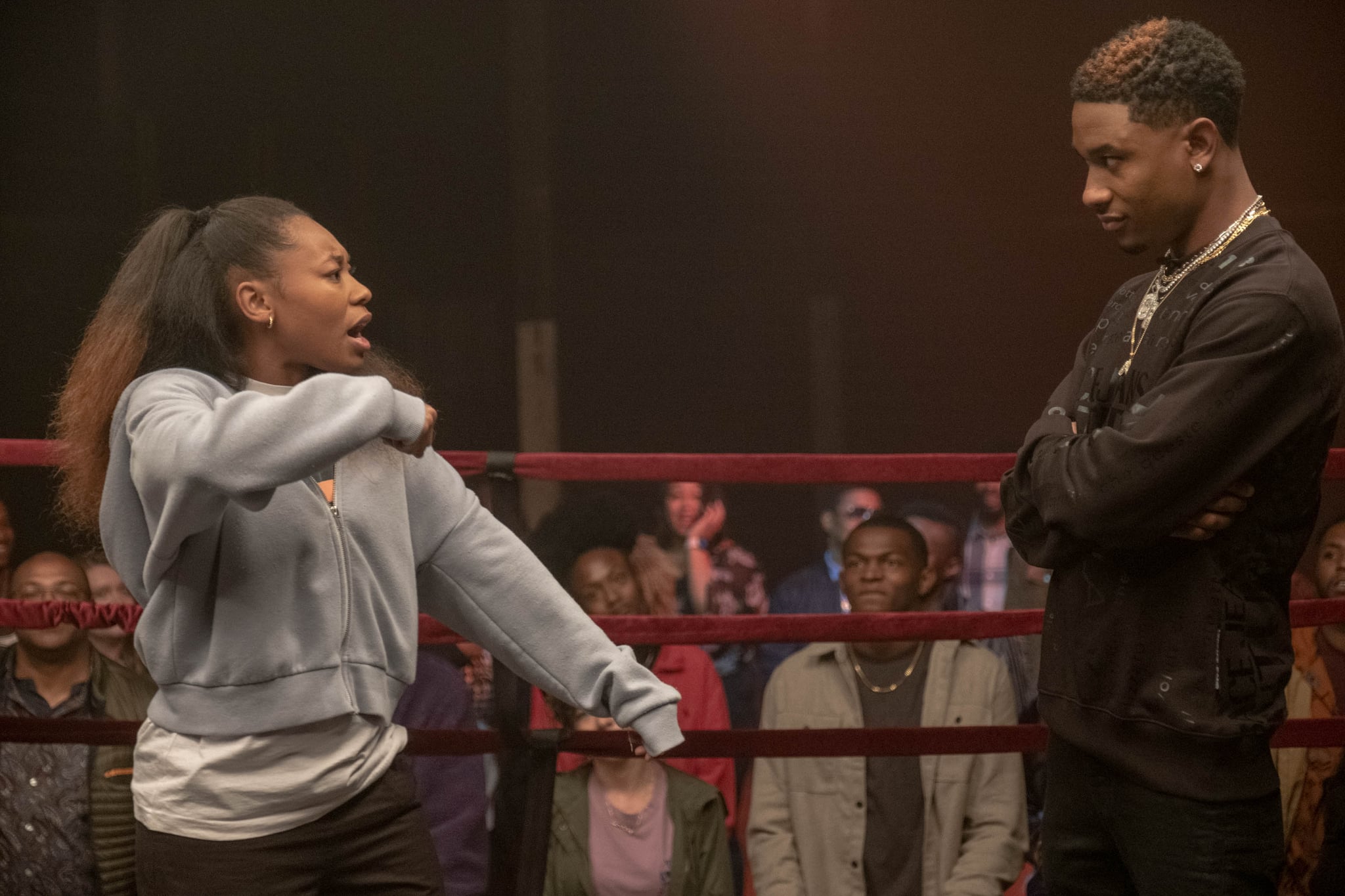 Image Credit: Paramount+
What is "On the Come Up" about?
In the book, 16-year-old Bri aspires to become one of the greatest rappers of all time — or at least become famous enough to drag her and her family out of their rough neighborhood. As the daughter of an underground rap legend who was killed before he could even reach his prime, everyone expects Bri to carry the torch and take the battle rap scene by storm in his name. With bills piling up at home from her newly unemployed mother, Bri decides to pursue her rap dreams to end her family's financial woes. However, when she lands a viral hit that leads her down a dangerous path, she must choose between staying true to who she is or conforming to the "fake gangsta" image the music industry is trying to inflict on her.
Is "On the Come Up" based on a true story?
According to Thomas, she was "inspired to write 'On the Come Up' for a number of reasons" – one of which was that her life mirrored its main character. "I was a lot like Bri when I was 16," she says. "I wanted to be a rapper and I thought it would be a way to lift my family out of poverty. We were in financial distress and I thought this would be a great way to get out of it. 'Cause when I was looking at the TV and I was listening to the radio, people who looked like me, they were doing it as a rapper. That was the best way to be a storyteller in my opinion. So when I was 16 I wanted to be a rapper. But Bri's story was also inspirational from a lot of censorship that I dealt with on my first novel, The Hate U Give. It's one of the most banned books out there and even now there are more attempts to ban it to silence me."
Censorship of Thomas in real life plays an important role in the plot of "On the Come Up" as Bri also faces people trying to shut down her music for alleged "incitement to violence". "I wanted to write this story about a young black girl who's trying to shut her up, and people focus more on how she says things than what she says," adds Thomas. "I thought it was important to highlight that and talk about what it means and how it feels when people don't want to listen to what you're saying because they're uncomfortable and the message you're getting . But also, what does it mean to take that power back and say, "You know what? I will stand by my truth no matter how people feel." So this story felt like the right time for me."
"On the Come Up" is now streaming on Paramount+.