Sophia Nomvete, who plays fan-favorite Disa, the dwarf princess in The Rings of Power, got her breakthrough in the fourth episode of Rings of Power, which was released on September 16. There is a tragic accident in the mines of Moria and many of the miners are trapped under layers of rock. Nobody knows if they survived.
And then Disa starts to sing. It's a beautiful, breathtaking scene, her voice rising above her, capturing the anguish, fears, sorrows and hopes of the dwarves. Afterwards, she tells Elrond (Robert Aramayo) that the song was a "plea to the rocks" to free the trapped miners. And it works – everyone is saved alive.
Nomvete tells POPSUGAR she chose Bill Withers' "Ain't No Sunshine" when she auditioned for the show and had to sing. Little did she know then about the scene her singing would be used in, but now she loves randomness. "There was this kind of spiritual connection that was happening, and I didn't even know it," she muses. It wasn't until much later in the audition process that she found out that Disa's power was to resonate with the rocks through music, and that she would use that power to literally let the light in.
"There's something very epic about her as an individual."
Nomvete and episode director Wayne Yip worked for three weeks to figure out what Disa's song would sound like. "We just said, 'This could be something. That must be something. This has to be a connection between someone who draws on the power of their voice to literally move mountains. What do we do with it?'" she explains. They used those full three weeks to set the scene. "The night before we shot, Wayne [was] on the phone to me with a keypad that said, 'You know Sophia, could you just go up here?' . . . That was something [we] felt so passionate and so excited to empower this character's voice, to reveal this about her.
The song itself was kept secret from most people prior to filming; Aramayo's reaction as Elrond was also his true reaction to hearing it for the first time. "I was performing live over and over again that day," she explains. Then series composer Bear McCreary walked in and "landed his extraordinary magic and brilliance". They worked together to perfect the moment.
"To be honest, I felt like I was going to pass out that day of shooting," says Nomvete. "I just thought, 'Just let it go. Whatever happened. Whatever happened in your life, on the day, in the moment, on the show, let it go.' And that's this moment."
Nomvete loves that viewers finally learn about Disa's "incredible, awe-inspiring power and magical power" in episode four, but she also appreciates all other levels of the character. "She's a princess and she's a king and she's also a wife and a mother," she explains. "And she also has her own independence and her own ambitions, all to always support her husband, her kingdom and her family, but there is an expanse to her being. There is something very epic about her as an individual."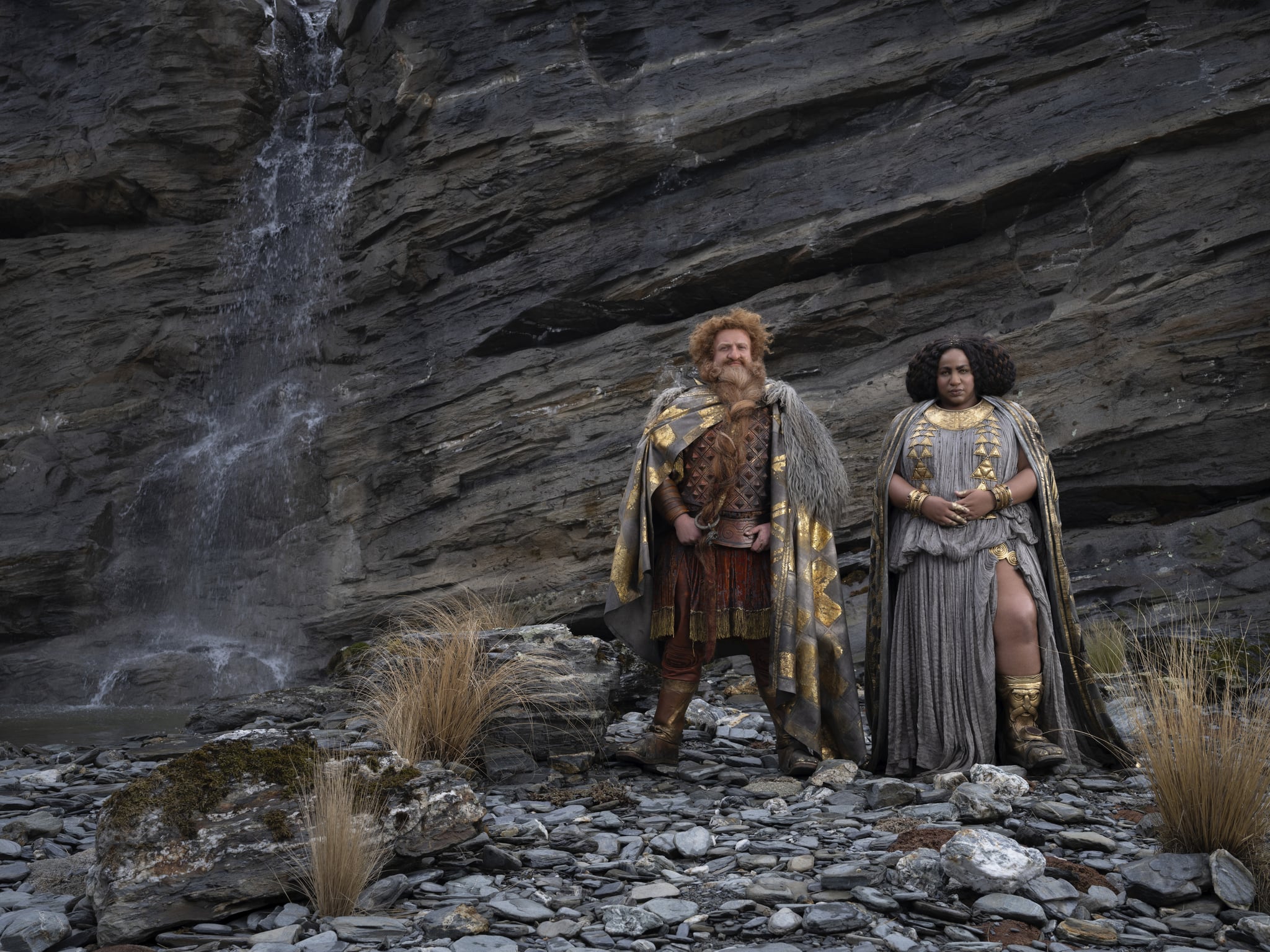 For Nomvete, one of the joys of the series is pulling back the curtain on the dwarves' home, Moria, also known as Khazad-dum. In the Lord of the Rings movies, viewers only see the mountain settlement after everyone there is dead and gone. But "The Rings of Power" takes place centuries earlier. "Now it's thriving, it's a place of power, excitement and riches, and we can see the full dynamic of the dwarves and how they function in this space," she says, pointing to the "collaboration" between humans and the mountain . "I think we're welcoming the kingdom of the dwarves for the first time ever. What a gift."
Nomvete says she and Owain Arthur, who plays Disa's husband Durin, love showing the "fullness" of dwarf culture. "They're a working-class culture," she says, and both actors come from similar backgrounds. "We know what it means… to really have to get your hands dirty and interfere and intervene and ennoble and protect."
She enjoys showing the "extremes" of midget feelings. "When they love, they will literally break your bones with a hug. When they're romantic, they're just super passionate and involved in each other. And when they're frustrated or angry, you better believe the rocks are going to crumble," she says.
The couple's other major relationship is with Elrond, and seeing his elven cool clash with their dwarven personalities is one of the greatest joys of the series. "We love each other," says Nomvete of working with Arthur and Aramayo. "The three of us have been together since the beginning. We're a team." When Elrond visits the couple for dinner early in the episode, the trio share a hug, a moment Nomvete says the actors got the idea while queuing in a hotel room.
"The friendship that we see on screen is based on a real friendship," says Nomvete. "It's a real triangle of a lot of love and a lot of support and a lot of respect." She jokes that she has thrown the "Disa death glare" at her fellow actors from time to time, and that she's glad their joyful connection is resonating with fans.
New episodes of Rings of Power will be released on Prime Video on Fridays.